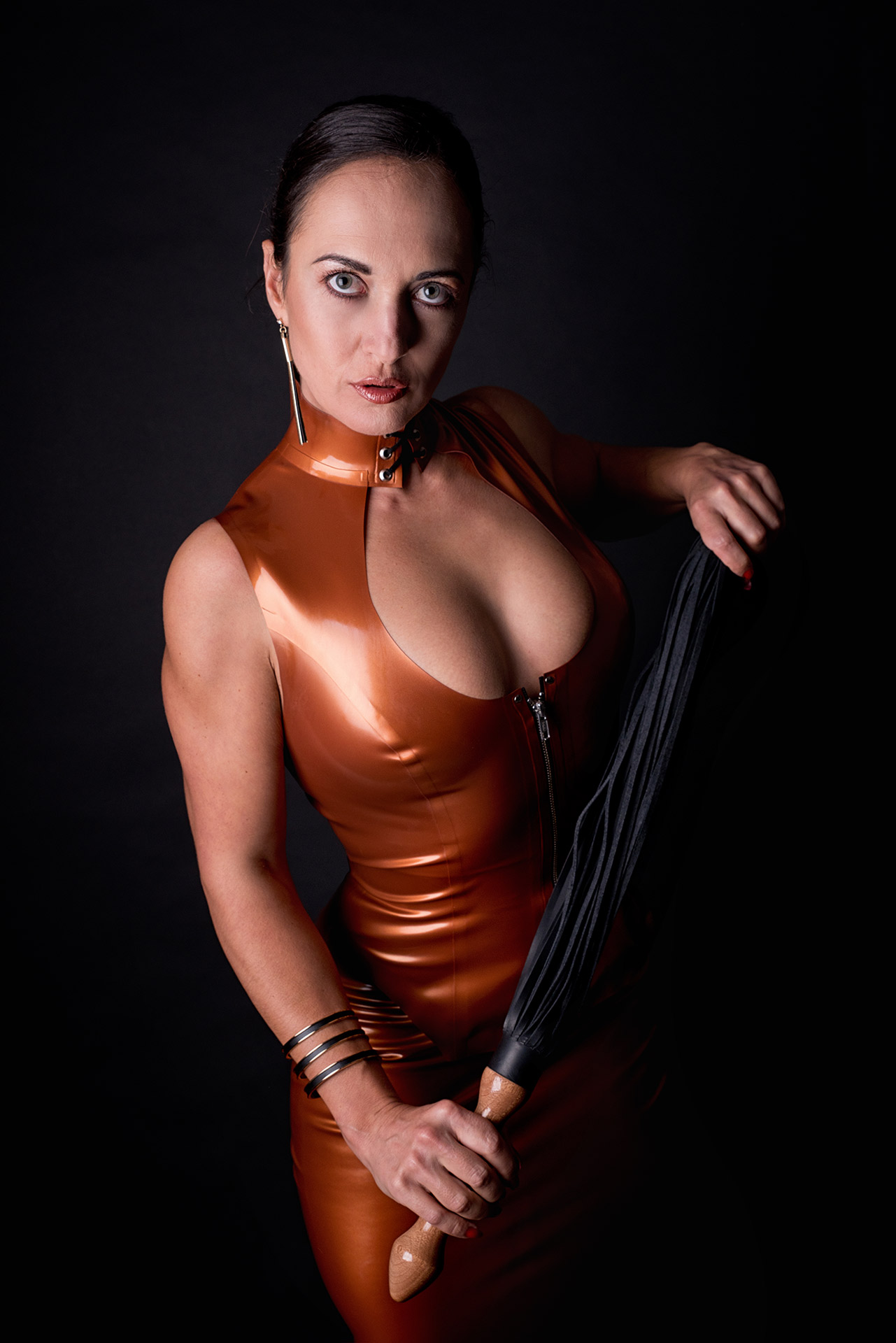 Procedure of booking an appointment
Inform

So that you are not the hundredth slave asking the same questions, inform yourself on my website.

Preferences and taboos

Think about what you definitely do not want and leave it to me to customize the session.

Useful information

Ask yourself the following questions:

When would you like to meet me? (date, time)
Where should the meeting take place? (City, possibly specific hotel)
What do you want to experience? (Preferences, wishes, taboos)
How do you want to feel during the game? (e.g. inferior, useful, helpless, humiliated, used, ... )
How long should our encounter last or what is your budget?

Contact

Write in a friendly, respectful manner and introduce yourself and your preferences (use the five questions from above). Be honest and do not play the slave you are not! Serious and respectful requests will always be answered.

My answer

Only when I have the above information, I can decide if I want to accompany your fantasies and if my calendar allows it.
If it fits in terms of time and content, we agree on a fixed date.
If we do not know each other personally yet, I will ask you for a deposit. This deposit is necessary so that I do not prepare in vain.
Contact form
Write me politely and respectfully, introduce yourself properly and describe your preferences and fantasies. Never forget with whom you are communicating. Talk to me like a queen and not like a buddy.
All information at a glance
Important information about a SM session and my BDSM practices.
Frequently asked questions (FAQ) and important information
My experience shows that potential slaves often ask me similar questions about a Sado Maso session or my BDSM practices. For this reason I have summarized the most important information in this FAQ.
I hope that I can answer the most important questions with it and not have to answer the same information by email for the umpteenth time.
I can be reached by phone or text message during regular office hours. I will only take calls where your phone number is displayed (no anonymous numbers). I will not call this number without your consent.
Respectful contact by e-mail is possible. The prerequisite for answering an e-mail inquiry is a respectful and formal form of address. Disrespectful e-mail requests will be ignored. I decide freely how detailed and with which form of address I answer you.
I expect and offer discretion: personal contacts, e-mail addresses, phone numbers as well as real meetings will be kept strictly confidential by me.
I like to travel and participate in events, fairs, workshops and trainings. My wanderlust is not limited to Germany, but also takes me to various places internationally.
If you would like to accompany me on a stay abroad, the following conditions apply: Stays abroad should be a minimum of 3 days, with no more than 50% of the time booked as consulting, training or game time. All flights must be business class or higher. In any case, travel expenses (flight and accommodation) are to be paid in full by you. I will book the travel myself. Fifty percent of the cost of meetings and consultations must be paid prior to booking and are non-refundable. All other details of the trip can be clarified by email.
Intime Berührungen am Körper der Herrin
Küssen
Sexual intercourse
Oral sex
Animals and minors
Illegal practices
I attach great importance to a well-groomed appearance, cleanliness and hygiene. This concerns myself, my equipment and the places where I stay. All my equipment and toys are disinfected after each use.
Slave candidates and slaves have to submit to my high hygiene standards and prove this to me by a clean and well-groomed appearance.
In the locations rented by me, there is always a bathroom available.
Slaves and slave candidates are punctual. Lateness will be reported to me immediately and may be punished.
Every session also includes the so-called aftercare. Here I catch my slaves after the session and give them the necessary support so that they arrive back in reality.
I enjoy these aftertalks very much and they are also very important for the sub.
I see myself as an artist and I expect an appropriate tribute.
No one would expect a musician, dancer or actress to perform for free, and therefore I also expect an appropriate tribute for my performances.
I live my dominance very authentically and with great passion. Each of my BDSM sessions is individually planned and prepared with a lot of time.
The black area (classic dominance & submission) has a fixed price and there are no hidden, subsequent costs to you.
For special wishes and types of games (clinic games, latex, dirty games) I charge an appropriate and transparent surcharge due to the increased time involved.
All prices are non-negotiable and the handover of the tribute always takes place before the play time.
Special locations that I rent for our meeting may include an additional charge.
I prefer longer play times and offer special rates for longer sessions.
If a deposit has been agreed upon for a meeting and the meeting is cancelled by the slave, I will decide if a refund will be given. On the part of the slave there is no right to a refund of this deposit.
Reisekosten für Sondertermine sind klar definiert und nicht verhandelbar:
25 km travel: included
ab 25 km € 0,70 pro gefahrenem Kilometer 
Flugkosten gehen zu Lasten des Sklaven (zusätzliche Kosten für meinen Aufwand sind verhandelbar)
Want to immerse yourself in imaginative SM experiences, try out new BDSM practices or stage kinky surprises? In my BDSM coaching, I show individuals or couples exciting ways to play with dominance and submission.
Dominant partners can learn to use certain practices or devices effectively but safely, or integrate new play ideas into their lives.
Submissive partners can also be advised and trained on how to better serve and be available to their top.
As an elite mistress, it is my pleasure to explore the strengths, weaknesses, passions and limitations of my counterpart and to play creatively with this knowledge.
Despite all diversity, there are certain basic rules that demand a certain basic submission of every slave and every slave candidate. It is the task of a slave to enrich the life of his mistress, not vice versa!
It is the job of a slave to enrich the life of his mistress, not the other way round!
Like any mistress, I am happy about gifts. I am especially happy about valuable gifts, which were selected and designed with devotion. I should feel that you have made an effort and have dealt with my person. Beautiful flowers, exclusive fragrances, shopping vouchers, fetish toys and designer shoes can inspire me and put me in the right mood to get involved with you.
Monetary gifts that I can freely dispose of are a very effective way of showing me your affection. A monetary gift with no strings attached is an expression of your deep devotion. I appreciate a short accompanying letter in which you tell me what sacrifices you had to make for this gift.
While buying beautiful designer high heels or having a fine meal, I enjoy the thought that you had to work hard and give up comforts for my luxury.
I enjoy indulging in my dreams and tackling new projects. It is not only allowed, but explicitly desired that my fans support me in this. In this way you become an active part in the fulfillment of my extravagant desires and your attentions are well noted by me.
To have my dreams and projects supported by admirers and fans, I offer the following options: Giftcard, Amazon Wish List and Patreon.
For my admirers who are unsure about choosing a gift, I keep an Amazon wish list.
A gift from my Amazon wish list gives you the incomparable opportunity to be noticed by me and maybe even put a smile on my face.
Orders are possible by arrangement or unsolicited. When the goods arrive, after polite and submissive demand can possibly be agreed that I send you a photo of the received item.
I am in close contact with the art and culture scene on the internet.
The Patreon platform offers me various opportunities for game ideas, product tests, interviews and consulting. Via Patreon you can support me in my creative ideas and projects. Your support enables me to realize further innovative internet projects.
If you can imagine to be available as a video actor, this is a nice proof of your commitment for me. In case of a shooting, the actor fills out a form that clarifies all legal questions. You will get a copy of it after the shooting.
Since I need a photo of you and your data, I ask you to bring your identity card. Many international clipstores require this for verification before they offer a clip for sale on their site.
Whether you want to appear with or without a mask is up to you. I always have masks with me, but you can also bring your own equipment. The video shoots are not free, but discounted up to 50%. Also in the shooting breaks you are at my disposal and follow my instructions.